Halotherapy -The salty air has many health benefits. Dry salt therapy is a non-invasive, drug & chemical free way to treat many conditions. There are many ways in which the salty air can alleviate your symptoms. For starters, salt is able to reduce inflammation in your airways and clear out your nasal passageways by breaking up mucus. This makes halotherapy an effective way to relieve bronchial problems. It can also help you get over a cold faster.
Halotherapy has been shown to trigger anti-inflammatory and anti-allergy responses in people with chronic respiratory conditions, and it can even improve the quality of life for these patients. In addition to allergies, dry salt therapy can also be used to alleviate other conditions, such as:
Asthma
Emphysema
Chronic bronchitis
Ear infections
Rhinitis
Smoking-related symptoms such as coughing and wheezing
Chronic Obstructive Pulmonary Disease (COPD)
Sinus congestion
Skin Coditions
Different studies have shown that patients with different respiratory ailments can breathe more easily after a halotherapy session.
Salt also produces negative ions, which have been theorized to help your body produce serotonin. This chemical is one of the key elements to happiness, which is why halotherapy has been proposed as an alternative treatment for depression and anxiety. his effect can also reduce stress, combat fatigue, and improve sleep.
Halotherapy is also beneficial to your immune and lymphatic systems. Additionally, it can improve skin conditions, including eczema, acne, rosacea, rashes, and psoriasis. Natural sea salt in its purest form actually has hydrating and antibacterial properties which can support your skin's hydration and water balance. Salts also contain magnesium, which is beneficial to our skin, improving skin barrier and inflammation. Halotherapy for the skin can provide wonderful benefits!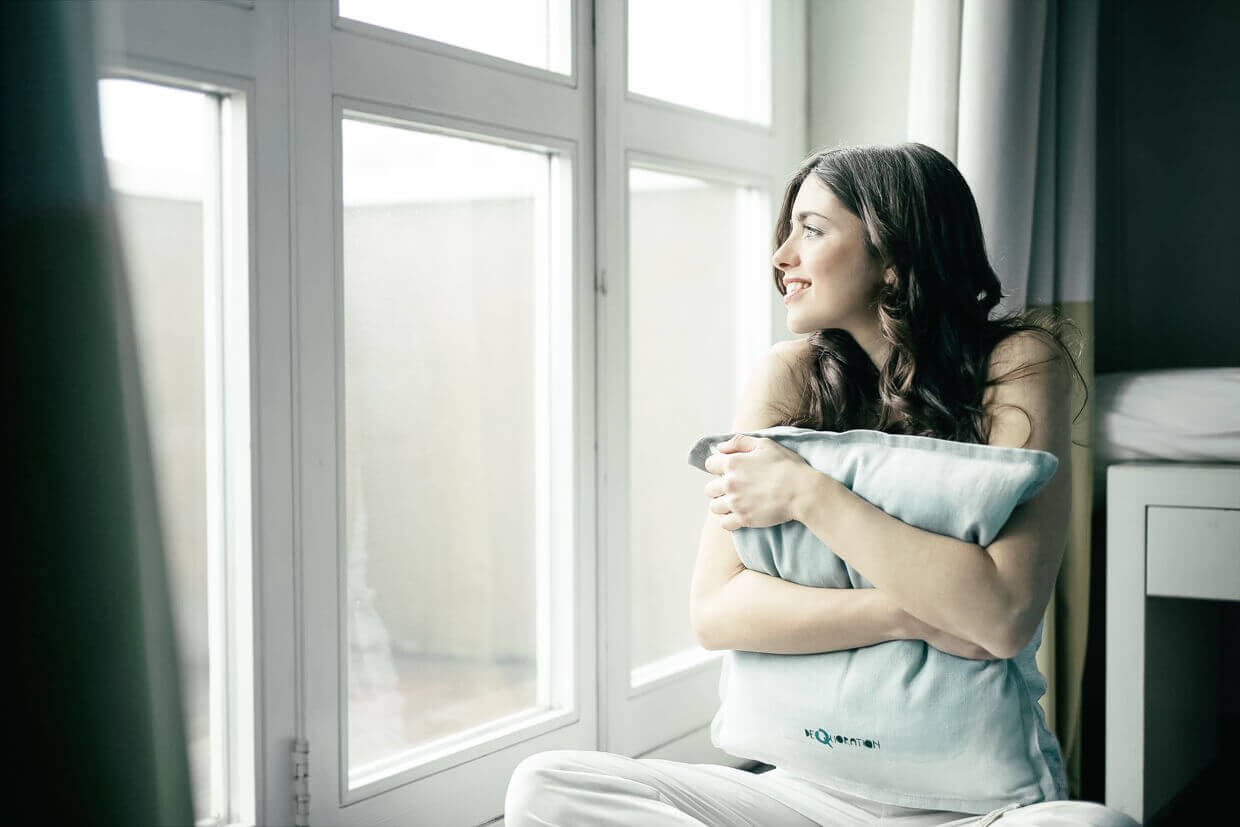 It is a very simple, non-invasive method involving the inhalation of a dry saline aerosol through the upper and lower airways. The treatment lasts 30 minutes, during which the client inhales a dose of micronised salt. The salt used in the dry salt aerosol diffuser is controlled and packaged in the form of micronised crystals in standardised 20g quantities, unlike other systems that micronise and grind salt directly into the diffuser, preventing a controlled dosage.
Iodised salt is used in a small percentage to simulate sea air, and to keep the exposure levels to iodine within the correct range.
The treatment with salt is fully natural; this is why it is suitable for all age groups, even for children, who are often the first ones to suffer from respiratory disorders.
It should be noted, however, that the "Salt therapy" should not be considered an alternative to any drug treatment the patient might currently be on.
The ideal cycle is 10 sessions, 1 performed weekly then as needed. Some clients may benefit for an additional weekly session.
The benefits will continue for a period of time ranging from six months to one year, depending on the case. Given that you can't take the sea home, the salt therapy can provide most of its health benefits, thus saving you time and money.
The system we use is standardized, because:
Particles, with a size of PM10, have a known composition, controlled by an optical particle counter device: GRIMM (1,108).
The modulated delivery system ensures a PM10 concentration of particles (m³ < to 50 µg) that will not cause rino-bronchial hyperactivity.
Given the fact that this type of salt has been micronised and packed in a controlled environment in the company's laboratory and diffused through the dry salt aerosol diffusers, its particles have all what it takes to reach all sections of the respiratory tract.
Sodium chloride is capable of optomising the "mucociliary clearance", that is, the set of small lashes on the cells in the respiratory tract. By means of frequent, regular and coordinated movements, these cells carry the slim layer of mucus covering them to the oral cavity: the result is a continuous clearance of the entire respiratory tract. In fact, mucus helps expel pollutants and pathogenic micro-organisms filtered from the ciliary system of cell membranes.
When inhaled, salt reaches the respiratory system, where its beneficial action promotes the patient's wellbeing, as the salt's osmotic properties act on the mucus and the irritated mucous membranes.
Salt Therapy has beneficial effects in many diseases, such as:
Asthma – Halotherapy is a very beneficial treatment for patients with asthma, thanks to the capabilities of saline aerosols.
Bronchitis – Often, a simple cold can lead to bronchitis, which can take up to a few weeks to disappear. Chronic bronchitis is common among smokers. In the case of bronchitis, halotherapy leads to better lung function, thus reducing cough.
Allergies – An allergy is a reaction of the immune system caused by harmless substances called allergens. These substances can cause a variety of reactions in the sufferer's body. Allergens, by inhalation, can cause an asthma attack due to the narrowing reaction in the airways and the increased amount of mucus in the lungs. Halotherapy can help by contributing to the reduction in the inflammation of the respiratory tract.
Paranasal sinus infections, sinusitis – Halotherapy improves the symptoms of sinusitis. It can do so by deleting clogs, helping reduce the paranasal sinus and promoting its purification.
Skin disorders, acne, eczema – The saline aerosols have beneficial effects, creating an unfavorable environment for bacterial proliferation. In addition, thanks to relaxation achieved during the session, halotherapy also contributes to the patient's state of well-being.